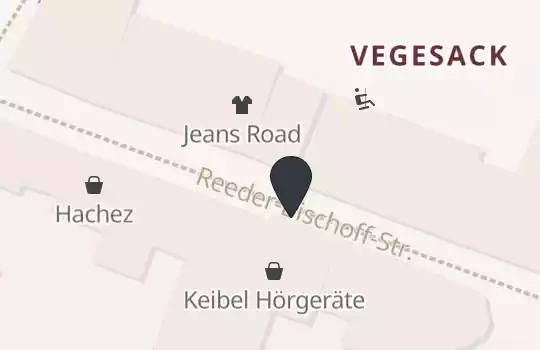 Karte anzeigen
Reeder-Bischoff-Straße 36
Vegesack
28757 Bremen
Speisekarte
4,50 €
Möhrenuppe mit Ingwer, Kokosmilch & Baguette (vegan)
Carrot soup with ginger, coconut milk & baguette (vegan)
7,50 €
Gratinierter Ziegenkäse mit Thymianhonig und buntem Blattsalat
Goat cheese au gratin with thyme honey and mixed leaf salad
6,00 €
Dreierlei gratinierte Crosinis mit Tomate, Olive & Aubergine(auf Wunsch vegan)
Three kinds of gratinated crossinis with tomato, olive & eggplant(vegan option)
7,50 €
Büffelmozzarella auf Rucolasalat mit Kirschtomaten& Balsamicoglacé
Buffalo mozzarella cheese with rucola salad,cherry tomatoes & balsamic glace
8,90 €
Bunter gemischter Blattsalat mit gebratenen Hähnchenbruststreifen, Balsamicogláce und Baguette
Colorful mixed salad leaves with fried chicken breast strips, Balsamicogláce and baguette
9,20 €
Feldsalat mit Birnenspalten, Gorgonzola,karamellisierten Walnüssen und Baguette
Corn salad with pear slices, gorgonzola, caramelized walnuts and baguette
9,80 €
Bunter gemischter Blattsalat mit gebratenen Roastbeefstreifen,Höhlenkäse und Baguette
Colorful mixed salad leaves with fried roast beef, tastefull cheese and baguette
10,80 €
Veganes Tofu-Gemüsefrikassee mit Basmatireis & Beilagensalat
Vegan tofu-vegetable fricassee with basmati rice & side salad
11,80 €
Vegetarische Kartoffel-Zucchinifritata mit hausgemachter Aioli und Beilagensalat
Vegetarian potato-courgette fritata with homemade aioli& side salad
10,20 €
Veganes Gemüsecurry mit Kichererbsen & Basmatireis
Vegan vegetable curry with chickpeas & basmati rice
11,60 €
Vegetarisch bunter Gemüseauflauf mit dreierlei Käse überbacken& Baguette  (auf Wunsch vegan)
Vegetarian assorted vegetable gratin with three kinds of cheese & baguette (vegan option)
10,80 €
Penne mit Roastbeefstreifen "á la Stroganoff" mit Zwiebeln,Pilzen & Grano Padano Käse
Penne with roastbeef stripes "á la stroganoff" with onions, mushroams & Gano Padano cheese
10,80 €
Spaghetti mit Feigen-Walnusssoße (vegan)Spaghetti
with fig-walnut cream sauce (vegan)
8,90 €
Spaghetti mit Feigen-Walnusssoße (vegan)Spaghetti
with fig-walnut cream sauce (vegan)
11,20 €
Penne mit Lammstreifen, Fenchel, frischen Tomaten& Grano Padano Käse
Penne with sliced lamb, fennel, fresh tomatoes & Grano Padano cheese
8,90 €
Spaghetti an Kürbiskernpesto mit schwarzen Oliven, eingelegten Tomaten und Grano Padano Käse
(vegetarisch oder vegan) Spaghetti pumpkin seed pesto with olives, dried tomatoes and Grana Padano cheese (vegan option)
15,60 €
Lammstreifen "mediterran" mit getrockneten Tomaten, Olivenhausgemachten Gnoccis & Beilagensalat
Lamb stripes "mediterranean" with sundried tomatoes, olives,homemade gnoccis & side salad
14,20 €
Drei Steaks vom Schwein an Thymiansoße, mit Bratkartoffeln& Beilagensalat
Three steaks from pork in thyme sauce, with fried potatoes& side salad
13,20 €
Balsamico Hähnchenbrustfiletstreifen mit
Basilikumreis& Beilagensalat Balsamic chicken fillet stripes with basil rice & side salad
18,50 €
Rumpsteak mit hausgemachter Kräuterbutter, Bratkartoffeln und Beilagensalat
Rump steak with homemade herb butter, fried potatoes & side salad
15,90 €
Trilogie vom Lachs-, Kabeljau- & Seelachsfiletauf Zitronen-Buttersoße an Kartoffelröstis mit Beilagensalat
Trilogy from salmon-, codfish- & sea salmon filletwith lemon-butter sauce, potato hash browns & side salad
12,90 €
Seelachsfilet auf Kapernsoße mit Basmatireis & Beilagensalat
Sea salomon fillet with collar sauce, basmati rice &side salad
12,90 €
Gegrilltes Kabeljaufilet mit
Kräuterkruste auf Dillsoße an BratkartoffelnGrilled codfish fillet with herb crust, dill sauce & fried potatoes
11,90 €
Pannfisch & Bratkartoffeln
mit hausgemachter Remoulade& Beilagensalat Pan fish & fried potatoes with homemade remoulade & side salad
13,60 €
Tortilla "á la Esszimmer"
mit frischen Nordseekrabben,hausgemachter Remoulade & BeilagensalatTortilla "á la Esszimmer" with fresh north sea crabs,homemade remoulade & side salad
6,50 €
Schnitzel "Wiener Art"
mit Pommes & Ketschup oder MajoSchnitzel "Wiener style" with french fries & ketchup or mayonaise
5,00 €
Spaghetti
mit Tomatensoße & geriebenem GoudakäseSpaghetti noodles with tomato sauce & Gouda cheese
5,00 €
Rahmspinat
mit Salzkartoffeln & SpiegeleiCream spinach with boiled potatoes & fried egg
5,20 €
Himbeer~Panna~Cotta mit Mango~Minzsoße (vegan)
Raspberry~panna~cotta with mango~peppermint sauce (vegan)
5,50 €
Gebrannte, karamellisierte Vanillecreme mit frischen Sommerfrüchten
Burned caramelised vanilla cream with fresh summer fruits
4,90 €
Erdbeercarpaccio
mit Bourbon Vanilleeis & Erdbeerpürree Strawberry carpaccio with bourbon vanilla ice cream & strawberry puree
4,50 €
Malzkaffeeschnitte im Nussmantel (vegan)
Malt coffee slice nut coated (vegan)
Die Esszimmer Speisekarte wurde mit größtmöglicher Sorgfalt erstellt. Für die Richtigkeit, Vollständigkeit und Aktualität der bereitgestellten Inhalte wird keine Gewähr übernommen. Es gilt die Speisekarte vor Ort.